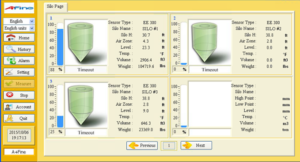 Aplus Finetek Sensor, Inc. is pleased to Introduce the new and improved EE310 Electromechanical Level Measuring System. The EE310 is widely utilized in mining, cement, petrochemical, feed mill and power plants. Suitable for different variety of materials as powder & bulk solids, cement powder, plastic pellets, feed pellets, and liquid. The result of measurement is not affected by environmental factors as sound waves, dust, static electricity, humidity and dielectric etc. It is also known as a plumb-bob, yo-yo or bin bob type of device.
Typical Industry use: Cement Industry; Typical Application: Ready-mixed concrete (R.M.C), Cement Measurement Temporary Storage Tank; Typical Products: EE310 for Continuous measurement; SEX Rotary Paddle Point Level Sensor for High High alarm; BAH Air Hammer; and MMS system integrating software for inventory management.
The EE310 weight & cable inventory sensor measures the empty space distance and material level of powder, granular, bulk solids and liquid materials in bins, tanks and silos.  This can be setup to occur when manually requested or on a scheduled automatic basis. The EE310 is a feature rich sensor, including a RS485 MODBUS serial link, 4-20mA output, pulse outputs and relay outputs. Multiple EE310 inventory sensors can be connected via a single 2 wire cable in a multi-drop daisy-chain configuration with our RCU remote control unit.
The RCU can be connected to a large number of EE310 sensors with RS485 network. The RCU allows the user to monitor all connected sensors and setup basic EE310 parameters, manual initiation of a measurement for any or all sensors, along with digital LCD display of data. The RCU is also very cost effective and can easily be wall mounted indoors or outside as it has a NEMA 4 rating.
If more display and functionality is desired the EE310 can easily be connected to the MMS materials management software installed on the Aplus Finetek IPC (industrial computer).  This will provide a graphic display of the silo for each sensor, perform calculations from distance, level to volume and weight and provide historical data tables and graphs.
For more information about the EE310 sensor, RCU and MMS Click here to contact us